We want
barriers to financial inclusion removed

for marginalised Nigerian communities.
Our first priority

National Identity Numbers For All

Marginalised Nigerians are more likely to be excluded from the formal economy due to a lack of ID; and the current ID enrolment framework presents barriers that disproportionately disadvantage these groups.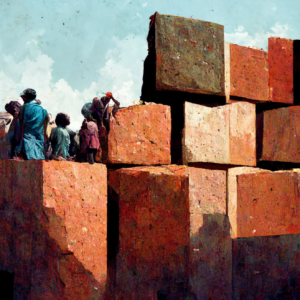 73% of Nigeria's unbanked adults unlikely to have the required ID to open a Tier-3 bank account.
National identity numbers for all
The poorer you are, the less likely you are to have an ID.
The likelihood of the respondents in the 2020 EFInA study owning ID decreased for every percentile (richest to poorest) of the World Bank's Poverty Probability Index category.
Women, likely to be farmers or traders, living in rural areas are most vulnerable.
73% of Nigeria's unbanked adults identified in the 2020 EFInA survey did not have the required ID to open a Tier-3 bank account - likely to be women, poor farmers, living in rural communities.
Identity is just a start.
Having ID does not make these groups formally included, but transitioning into formal inclusion is dependent on it.
Inclusion for All / Inclusion for all
What we know: Foundational identity system that encourages inclusiveness and aligns with best practice is critical to participating in the formal economy. Formal ID confers recognition by government and service providers and enables access to a host of services – financial, health, education, and social safety nets. On Episode 11 of Inclusion for all radio, Chinasa […]
The NIN is Nigeria's form of foundational digital ID that all bonafide citizens must have. Providing universal coverage and barrier-free access to ID systems is one of the three pillars of the Principles on Identification for Sustainable Development and is vital to achieving Target 16.9 of the Sustainable Development Goals (SDGs), to "provide legal identity […]
Enrolment barriers
Policy/Regulatory gaps
Without a formal means of ID the people we care about are "unseen" by the government and other key stakeholders that can help them.; thus making their impoverished state at risk of stagnating or even worsening.
Enrolment barriers
Policy/Regulatory gaps
Service delivery
In May, Nigerian telcos approved the suspension of USSD service access from Nigerian banks due to the banks' accumulated debt of N210 billion (USD 261.36 million) in USSD fees. This decision might seem like just another business move, but it could have significant consequences for financial inclusion. In a country where 38% of the population […]
Tabawa has her NIN and knows how it is well accepted. She highlighted that the older ones in her community do not care about having a NIN because they are not interested in opening bank accounts. She highlighted that the long queues and poor network are the most challenging issues people have to deal with […]
Joy declares that she has a formal ID – the Permanent Voter's Card has her means of identification and also used it in opening her bank account. She shares how the cash scarcity adversely impacted the sales of her farm produce.