November 25, 2021
Inclusion 4 All / Inclusion for all / Trade & the economy
Women in general, dependents, female traders and female agricultural workers are most likely to be excluded from Nigeria's identity system.
Specific interventions are required to ensure that these vulnerable communities are not left behind
November 25, 2021 – Lagos: The Inclusion for All initiative, an advocacy programme that seeks to remove the barriers that prevent the financial and economic inclusion of Nigeria's poorest and most vulnerable communities, has released its most recent research findings through an open-source data visualisation platform. The Inclusion for All platform allows interested stakeholders to navigate rich data-sets on inclusion that help the user understand the issues and challenges for themselves. The findings and platform were launched at a roundtable event on November 23, 2021.
Inclusion for All research has previously demonstrated that the poorer you are, the less likely you are to have ID, click here to see the data behind this.
The latest research sought to identify the specific communities and groups that are most likely to be excluded from Nigeria's identity system, by analysing data from the 2020 Enhancing Financial Innovation and Access Access to Finance Survey. Some of the key findings are summarised below, and a wider selection of insights can be found by visiting the Inclusion for all website.
Women are less likely to have ID at every percentile of the World Bank's poverty probability index, and the gap widens the poorer the more likely a respondent is to be poor.
The gender gap in ID ownership is considerably more acute for specific categories of women, with an overall gender gap of 8%, and a progressively increasing gap as we look at particularly vulnerable groups.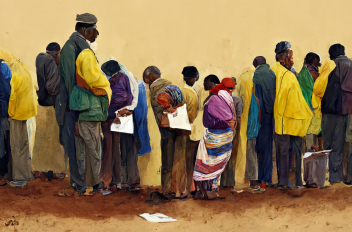 Nigerians who are reliant on a household member for financial support are the least likely to have ID and market traders and small business owners, especially those in the agricultural sector, are also more likely to be excluded than included.
Engr. Aliyu Aziz – Director General & CEO – NIMC; Dr Joe Abah – Public Policy Advisor & Nigeria Country Director, DAI; Hajia Aisha Ahmed, CEO of the Murna Foundation, Dr Agu Osoka, Managing Director, Biosec Solutions; Nkem Okocha, Founder, Mamamoni; and Tolulope Babajide, Financial Inclusion & Gender Coordinator, Sahel Consulting joined a panel discussion to explore 'How to optimise the implementation of Nigeria's identity programme to enable easy access for the country's most marginalised communities'.
All panellists agreed that ID is a strategic enabler to improve inclusion and enhance access to credit, and other economic opportunities for women and other marginalised segments of society. They had different perspectives on the most important actions that need to be taken to accelerate access including:
Improved funding structures to enable sustainability in the ecosystem;
Wider and more substantive ecosystem partnerships;
Mass awareness raising about the value and importance of identity amongst marginalised groups.
Flexibility in data capture methodology, to account for the fact that marginalised groups often do not have readable biometrics.
Commenting on the findings and the discussions at the roundtable, Chinasa Collins-Ogbuo – Head of the Inclusion for All Initiative said "We are clearly identifying the groups of Nigerians who most need help to access identity and they are, as we have feared, the most vulnerable. I am delighted that we were able to bring together such a strong group of panellists to discuss the findings and identify potential solutions that we can implement to overcome the challenges. We will be following up with them to build a detailed set of recommendations for action that can frame the development of interventions over the coming months, as we ramp up our support for these communities and work to ensure that they can find a way into the formal economy."
ENDS