We want
barriers to financial inclusion removed

for marginalised Nigerian communities.
Our first priority

National Identity Numbers For All

Marginalised Nigerians are more likely to be excluded from the formal economy due to a lack of ID; and the current ID enrolment framework presents barriers that disproportionately disadvantage these groups.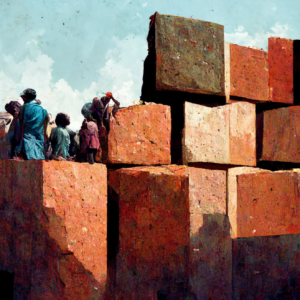 73% of Nigeria's unbanked adults unlikely to have the required ID to open a Tier-3 bank account.
National identity numbers for all
The poorer you are, the less likely you are to have an ID.
The likelihood of the respondents in the 2020 EFInA study owning ID decreased for every percentile (richest to poorest) of the World Bank's Poverty Probability Index category.
Women, likely to be farmers or traders, living in rural areas are most vulnerable.
73% of Nigeria's unbanked adults identified in the 2020 EFInA survey did not have the required ID to open a Tier-3 bank account - likely to be women, poor farmers, living in rural communities.
Identity is just a start.
Having ID does not make these groups formally included, but transitioning into formal inclusion is dependent on it.
In May, Nigerian telcos approved the suspension of USSD service access from Nigerian banks due to the banks' accumulated debt of N210 billion (USD 261.36 million) in USSD fees. This decision might seem like just another business move, but it could have significant consequences for financial inclusion. In a country where 38% of the population […]
Tabawa has her NIN and knows how it is well accepted. She highlighted that the older ones in her community do not care about having a NIN because they are not interested in opening bank accounts.  She highlighted that the long queues and poor network are the most challenging issues people have to deal with […]
Joy declares that she has a formal ID – the  Permanent Voter's Card has her means of identification and also used it in opening her bank account. She shares how the cash scarcity adversely impacted the sales of her farm produce.
Shadia shares her awareness of the availability of a range of formal IDs including NIN, BVN, and Voters' Card. She urges the government to bring the NIN enrollment closer to their community for convenient access and further states that they wouldn't mind paying a small fee to ensure they get access to original NINs based […]
Rabi shares that women in their 30s and above do not have birth certificates but those in their 20s and below do have their birth certificates in her community. She also highlights that 70% of women in her community have registered for their NIN which they are yet to receive. According to her, the creation […]
Oreoluwa shares her awareness of the different means of identification, and the importance of owning one. She further cites a lack of education and a lack of understanding as why some other women in her community don't understand the value of owning formal identification like NIN.